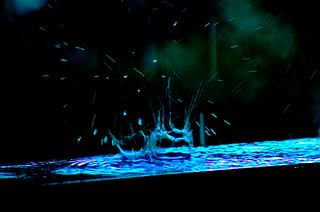 more rain skies today, good for us! our tomatoes and other veggies look very happy.
I've decided not to dwell on politics this week...if we look towards man to fix all the problems, and not God...we are bound to be disappointed. We were watching a new show and a reporter I was not very familiar with
Glenn Beck.

.
..We were both very impressed with him, plain spoken and down to earth....one thing he mentioned that on D day in WWII, President Franklin Roosevelt asked the nation to pray with him on the radio and had a over 6 minute prayer...you can hear and listen to it
here
while the bombs were flying, our people were praying......I wish we had that spirit in our President today, don't you? On Glenn Becks site, there are videos you can hear (got to go through a commercial unfortunately, but its worth it) and yes, he really loves our Lord too.....he professed Jesus on the show and is very passionate.
.•´¯`•.¸¸.•´¯`•.¸><((((º>
I don't often promote artists on this blog but once in a great while, there is someone I think needs a little mention....I ran across this lady's work and I think its wonderful.....Her blog is
Bay Ray's Child
and she creates the most wonderful art dolls...she has one on Ebay right now that I would dearly love.......
Her workmanship is extraordinary, don't you think? I've made dolls and know the work involved.
.•´¯`•.¸¸.•´¯`•.¸><((((º>
and speaking of prayer...would you please pray for us? we have alot of bills due this week and no one has paid us for the work we've done in several weeks.
also the following need our prayers...
Cora,
Hidden Riches from Secret Places
for continued recovery from cancer surgery
Jase,& his family,
Farmhouse Blessings
for a very scary heart condition.
Kay and Joseph, ....
Mused News
Joseph has health problems also...and financial help.
Ephesians 6:18"praying always with all prayer and supplication in the Spirit, being watchful to this end with all perseverance and supplication for all the saints."