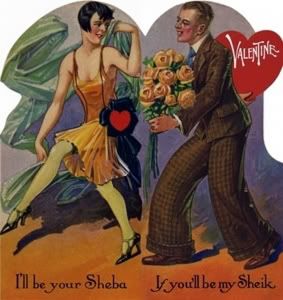 The Valentine is from the 1920s....the flapper, and the reference to Sheba and the Sheik.....remind me of Valentino....my aunt, my mothers older sister, was a teen during those years..she has never mentioned those times but I do have a photo of her in a flapper dress.... I wish they had talked more about those times or kept a diary/journal...
as a child, I always liked to sit and listen to the stories of the older people in my family....they didn't seem to mind and I do remember some of the stories....wish they or I had written them down now as most of them are passed on.....my paternal grandmother did write down a lot and I have that...what it was like living on a dry farm in Montana...knowing her great grandparents who were born right after the American Revolution. My maternal grandpa had a genealogist do a book on our family which I have also and one great aunt was a active member of DAR (Daughters of the American Revolution). I love mysteries and always want to know more...just my nature, I guess...
on another note....we put for sale signs on my car today...its a nice car...Alan bought it for me and treated me to leather interior, lo jack, and all power everything...it gets great gas mileage and is very nice....hope to sell it soon and get out of our hole we are in right now...please pray with me that the right buyer will come...they will get a good dependable car and we will be blessed to get back on track with our house payments....its a win win for both of us...