These are the pumpkins we grew this past summer, they're decorating in the front for fall right now. The largest one weighs over 20 lbs. It was sure fun wondering what they were from the mystery plant.!
we found this cute little wash board at a foreclosed house, its small and as you can see, it was made for the kitchen sink. I'm planning on listing it on Etsy and hope someone will love it. I sure like the one we inherited from my MIL, which is below. Alan made a box for the bottom and I decorate it seasonally.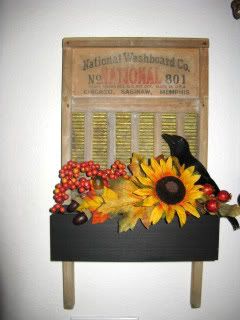 I also have a few other things I'm going to list. Some wooden carved tea light candle holders which are really cool, a Welsh sheep that is handmade that we got when we visited Wales, and a few other things.Plus whatever else I can dig up.